Valle Country Fair
See more exciting details below!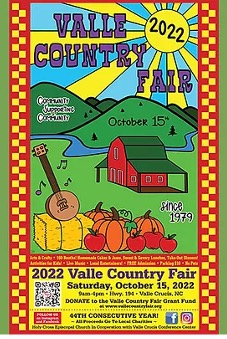 The annual Valle Country Fair is sponsored by Holy Cross Episcopal Church in cooperation with the Valle Crucis Conference Center. All proceeds are used to help the community's most vulnerable citizens. This event takes place in one of the most picturesque valleys in the North Carolina mountains at the peak of the fall color season. The gathering is an authentic harvest-season community celebration that revolves around quality hand-made crafts, home-cooked food, and mountain music.
The 44th Valle Country fair will take place Saturday, October 15, 2022. Click here for more details.
Holy Cross's Mission and Outreach Commission determines how the proceeds from the Valle Country Fair are distributed. Part of the proceeds are used for emergency calls to the church for such things as rent, utilities, car repairs, medical expenses, etc. Remaining proceeds go to local non-profit organizations who apply for our grants.
The 2021 grant amount was $33,000.00 and below are the 2021 grant recipients:
Appalachian Senior's Program: Their mission is to provide meaningful and productive volunteer opportunities for senior citizens to remain active in the community, offering services to children with special needs and the frail elderly that otherwise are not offered. Their programs include the Foster Grandparent and Senior Companion programs.
Blue Ridge Women in Agriculture: Their mission is to support producers and cultivate connections that educate, inspire and increase the demand for local food. They envision an equitable and sustainable High Country food system where producers are thriving and local food is accessible to all.
Children's Council of Watauga County: Their mission is to build a strong foundation for children's learning and development by strengthening families, the early childhood system and the wider community.
Community Care Clinic: The Community Care Clinic is a free clinic that provides healthcare to low-income, uninsured people in our community.
High Country Caregivers: They plan to develop a "Creating a Family" curriculum to help grandmothers and other family members help at-risk children with dealing with the loss of a traditional family.
Hunger and Health Coalition: Their mission is to relieve poverty and hunger in a compassionate manner for families and individuals experiencing economic hardship and to help those who must choose between paying rent, buying food or taking medicine.
LIFE Village, Inc.: Their mission is to help meet residential needs of adults with autism and related challenges in the community.
Mountain Alliance: Their mission is to provide transformative experiences and support so that all High Country teens have the opportunity to learn an empowered, adventurous and service-oriented life, regardless of means or background.
Parent-to-Parent Family Support Network: This is an outreach program of Appalachian State University providing services to families who have an older teen or young adult with a disability struggling with education and jobs.
Spirit Ride Therapeutic Riding Center: Their mission is to provide children with a wide array of diagnoses the opportunity to learn, grow and strive to become their ideal selves through equine-related therapeutic and educational activities.
Watauga County Schools Extended Learning Centers: Their mission is to promote the academic mission of Watauga County schools while providing the working parents of our community a sanctuary of safety, as well as intellectual, social, emotional and physical well-being.